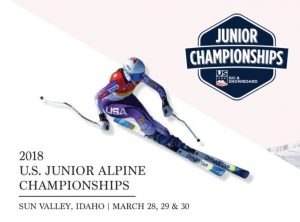 After all the excitement from Monday's women's giant sla-lom finale of the 2018 Toyota U.S. Alpine Championships on Baldy, Sun Valley will make a quick turnaround two days later and stage another major U.S. Ski and Snowboard (USSA) event. Roughly 70-80 men and 50-60 women from across the U.S. are expected for the USSA U.S. Junior National Alpine Championships that will put a lively spring skiing punctuation mark on the 2017-18 winter sea-son at Sun Valley Resort.
The Sun Valley Ski Educa-tion Foundation (SVSEF) along with title sponsor Smartwool will host top U.S. juniors for competition in the USSA championship event set for Wednesday through Friday, March 28-30. Featured in the three-day series are one competition in super giant slalom, one in giant slalom and one in slalom for men and women.
SVSEF also hosts a Ketchum welcome ceremony, awards ceremonies after men's and women's races, and a gathering for parents, coaches and offi-cials at Ketchum's Limelight Hotel on Thursday.