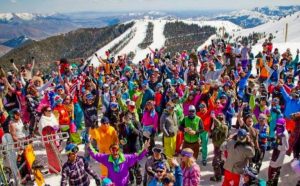 Forbes, April 4th, 2018
Sun Valley in Idaho offers just about everything an outdoor enthusiast might dream of doing in one location. Skiers and snowboarders relish its more than 2,000 skiable acres and 40 kilometers of cross-country tracks. But don't discount its warm-weather outdoor activities, as droves of people come here for hiking, mountain biking, golf, fishing, shooting and horseback riding, as the summer season has surpassed the winter season as the busiest time of year at the resort. And that's just the beginning.
A resort for all seasons
Indeed, Sun Valley is a year-round destination that benefits from a high mountain desert climate, low humidity and sunny skies for 80 percent of the year. The average daily high temperature during its coldest season, between mid-November and late February, is a comfortable 32°F, while the average temperature during the summer months is an enviable 81°F.
"The old saying here," explains Steve Haims, who has lived in the area since 1978 and is employed by Sun Valley as its Director of Nordic Sports, "is that people come for the winter and stay for the summer."
It is easy to understand why.