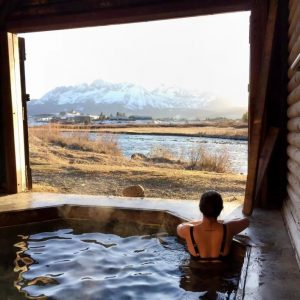 While Sun Valley doesn't quite have the international fame of Aspen, Vail, or Jackson Hole–it should. Those in the know consistently rank Sun Valley as one of the top ski resorts in the country. Sure, it can't compete with the acreage of Park City or the luxury of Beaver Creek or the epic expert slopes of Jackson Hole, but Sun Valley is worth visiting for reasons that go way beyond skiing.
Galleries Galore
For a main street with three stoplights, Ketchum has quite the happening creative scene, anchored by the Sun Valley Center for the Arts, a multimedia space with exhibitions, lectures, workshops, and more.
Fancy and Freaky Festivals
The vibrant arts scene in Sun Valley doesn't end with fine art. Perhaps the biggest annual happening here is the Sun Valley Festival, a series that brings world-class classical music
Old-School Vibes, Cheap Eats, and Hip Restaurants
Sun Valley has a surprisingly varied dining scene, from authentic street tacos to the steakhouse of your wild west dreams to hip restaurants that wouldn't be out of place in San Francisco or New York.
A Wilderness Wonderland
Although Sun Valley's most famous sport is skiing, there are tons of ways for non-skiers to explore this breathtaking scenery. Nordic and cross-country skiers can explore 25 miles of trails.
Hot Tubs and Hot Springs
All that outdoor exertion means that you get to treat yourself at the end of the day with a long soak in hot water.
Sublime Skiing
There are so many reasons to visit Sun Valley that it's easy to forget the reason this place exists: Sun Valley Ski Resort.
Though Sun Valley is a dream destination for skiers and snowboarders, it's so much more than that. This little town will surprise and delight you, even if you've never put on a pair of skis before.