Did your favorite make the list?
It's that time of the year again, when SKI releases the results of our annual Reader Resort Survey ranking the top ski resorts in North America. And after the pandemic season we all made it through, it was anyone's guess which resorts were going to come out on top. In the West, where travel was less restricted, many of you said that you made most, if not all, of your typical ski trips—aside from Canada, as borders were closed. That said, we did see a bump in responses for smaller, independent resorts, and more appreciative comments about them, as well.
Not surprisingly, the West's biggest resorts bore the brunt of the frustration from readers, with comments about interminably long lift lines and packed slopes dominating the responses this year. Readers both lamented the loss of skiing's softer side—limited access to the dining and après facilities, less camaraderie after a day on the slopes—and celebrated just skiing without all the bells and whistles. While we anticipate a return to normalcy at ski areas this winter, we acknowledge that the pandemic changed how we ski at the resorts—and that some of us are opting not to, with a newfound love of backcountry skiing.
Whatever the coming season will look like for you, we hope you can use these rankings to inform your vacation choices. As one wise reader wrote, "There is no one resort that 'has it all'. People need to decide what's important to them." We couldn't have said it better ourselves.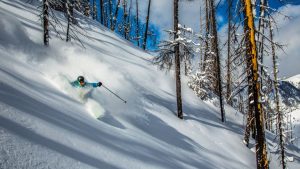 1. Sun Valley Resort, Idaho
Overall Score: 8.91
Strengths: Grooming, Service
Weaknesses: Access, Snow
What Readers Say
"Sun Valley is just magical. The village and the Lodge can't be topped. The mountain is perfectly maintained and has perfect pitch on every run. The history makes it fun to be a part of. The Holding family are supreme stewards of this jewel. "